Triumph Dolomite- the return of a timeless classic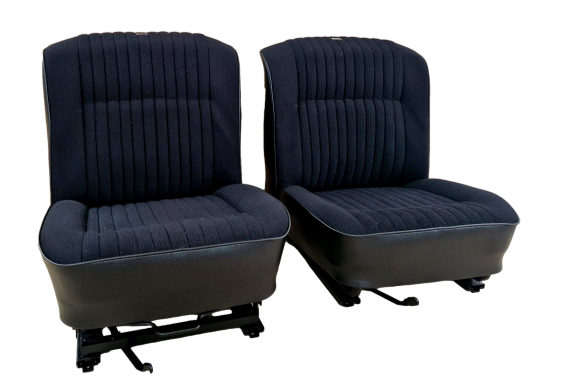 Our recently launched Triumph Dolomite range encapsulates the elegance of the original interior but with modern manufacturing techniques. We have worked hard to create products in OEM style to revive older interiors whilst keeping its timeless essence and elegance at the forefront of all the development. 
We understand our customers not only love their cars but want to know what we are doing to help them keep the vehicles full of life. So, we have put together some more in-depth explanations of the products featured in our Dolomite range so you can get the low-down on how it all came together!

.
Seat Covers
Designed to capture the essence of this illustrious British car, our seat covers provide the perfect blend of style, durability, and precision.
Each seat cover is meticulously crafted from high-quality automotive vinyl and cloth, selected for its close resemblance to the original material. This ensures that our seat covers not only stand up to the rigors of daily use but also maintain the nostalgic charm of the Triumph Dolomite.
Precision is at the heart of what we do. Our seat covers are cut using state-of-the-art CNC machines, ensuring an exact fit that seamlessly blends with your vehicle's interior. The precision-cut material is then handed over to our skilled and experienced sewing team, who masterfully stitch each piece to create a product that echoes the quality and craftsmanship of the original design.


Rear seat covers
We've gone to great lengths to ensure this material closely mirrors the original, preserving the authenticity and charm of your Triumph Dolomite. This ensures that our seat covers not only withstand the test of time but also maintain the vehicle's iconic aesthetics.
Our seat covers are cut using advanced CNC machines, ensuring an exact fit that integrates seamlessly with your vehicle's interior design. The carefully cut pieces are then handed over to our professional sewing team who craft the top-stitched faces and put the pieces together to create your newly refurbished seats to bring the comfort and style back to your Dolomite. 


 Panels
Our Dolomite front and rear quarter door panels are expertly crafted from traditionally used 2.4mm hardboard, a material renowned for its robust durability.
We use CNC machining to ensure an exact fit for each panel, thereby preserving the originality of your cherished Triumph Dolomite. To add to their aesthetic appeal and authenticity, each panel is then finished with HF welding. This process not only enhances the overall look but also ensures a seamless finish, closely mimicking the OEM style that our customers so highly prize.
But our commitment to quality doesn't stop there. Every panel undergoes a meticulous hand-finishing process, adding that final touch of perfection. These panels aren't just about function; they're about bringing the iconic essence of the Triumph Dolomite into the present day.


These are just a few of our new, high-quality Triumph Dolomite products, we have lots more on offer and even more coming soon so keep an eye out for more news!
Follow our social media accounts for our latest updates:
Instagram- newtoncommercial
Facebook- Newton Commercial
amber grant